Ho ho ho!
Christmas is near, bringing good cheer to all!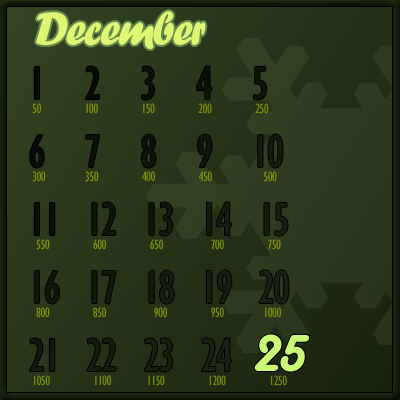 Once again, it's nearing that time of year where generosity is the key! And with that, I have brought my sac full of tings with me. Naughty or nice? Don't fret! The gifts I bring to you during the Advent month are for all, all those who sign up to win! For every day, from the 1st until the 25th of December, one lucky member out of all who have signed up will be randomly selected to receive a prize, and as we near the grand day itself, these prizes will only become larger and larger!
To sign up, simply state so here. If you're late to the party and the awards have already started being handed out, do not worry, you may still sign up, but your chances of receiving a prize will obviously be lower. The season of gift-giving should encapsulate all!
Good luck, everyone, and if you're extra good, maybe you'll see that PlayStation 4 or Xbox One under the tree this year!
Participants:
dartofthedavros
Eren
#Toilet Paper#
Drolpiraat
Pirez
Hunchman801
Harpic fraîcheur
OCG
ikke471
LoveMetal
Bzzit
Bradandez
Carrot-master
Master
Imco
Thebananacrafter!
incognito
Acarr
Matyuv
Serza5
deton24
SilentSanctuary
lucky3
Stormtrooper934
Fifo
Raymanni
Hoodcom
anaphasiia
Ribshark
Rayfist
TFDs39
Keane
DandyGuy
szymski
FunkyboardWizard
MandM81
TimProzz
Haruka
Comment ?
lavengeanceduhap
Ambidextroid
Indy
Miss-Cerasus
Xenon
CHRdutch
buildersith